Kemp Town Enclosures is a communal garden, owned collectively by the freeholders of the 105 houses that make up the Kemp Town Estate. Developed in the 1820's by Thomas Kemp, the Estate consists of Sussex Square, Lewes Crescent, Chichester Terrace and Arundel Terrace.
The gardens were landscaped in 1828 by local horticulturist Henry Phillips at around the time that the Kemp Town Estate was being constructed, with the tunnel to the esplanade being added in about 1830. William IV and Queen Adelaide, and later Victoria and Albert, enjoyed walking in the gardens on their visits to Brighton.  They were set aside for the exclusive pleasure of Edward VII in 1908 when he was staying with his daughter at 1 Lewes Crescent.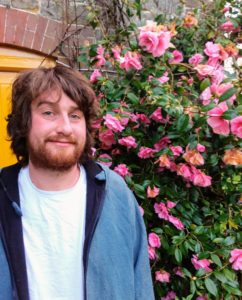 MEET PATRICK CAM,
our new Assistant Gardener, who will be starting work immediately after Easter. Patrick grew up on a farm on the West Sussex/Hampshire border and studied Countryside Management at Plumpton College while working part-time on the family farm and volunteering with the National Trust. He spent three and a half years travelling in North Africa and South Asia and started gardening as a hobby on his return to the UK. He then decided to pursue horticulture as a career, completed City and Guilds Level 3 in horticulture at Plumpton College and is currently working towards a Level 2 qualification with the Royal Horticultural Society and hopes to continue to Level 3. Patrick lives in Lewes Road and is married to Hilary, from County Cork, who is a specialist nurse at the Royal Sussex County Hospital.