Kemp Town Enclosures is a communal garden, owned collectively by the freeholders of the 100 houses that make up the Kemp Town Estate. Developed in the 1820's by Thomas Kemp, the Estate consists of Sussex Square, Lewes Crescent, Chichester Terrace and Arundel Terrace.
The gardens were landscaped in 1828 at about the time that the Kemp Town Estate was being constructed, and each freeholder paid a sum fixed by the Garden Management Committee towards their upkeep. A Board of Management for Kemp Town Enclosures is voted in and an AGM is held every year, usually in February.
Kemp Town gardens form 7.5 acres of enclosed gardens in the Kemp Town Estate. The site slopes steeply southwards from the northern end of the gardens to the sea front, the top of Sussex Square which forms the northern, highest part of the gardens, being nearly 40 metres above sea level and 400 metres from the mean high water level.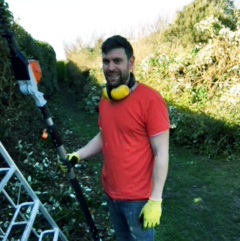 ANDY WELLER
Many of you will know Andy Weller, who has been part of the gardening team in the Enclosures for the last three years. Sadly Andy will be leaving us soon to take up a position as trainee tree officer with Horsham Council. It is probably a sensible career move as he studied arboriculture for 4 years. Cheerful, sociable and committed, he will be sadly missed but we wish him all the best in his new post!